President Yoon Suk Yeol from April 24-30 made a state visit to the U.S. at the invitation of U.S. President Joe Biden, the first trip of its kind by a Korean leader in 12 years. Both presidents held a bilateral summit at the White House and officially adopted the Washington Declaration. The Office of the President in Seoul said President Yoon's latest visit to the U.S. strengthened the bilateral alliance in five main sectors: extended deterrence, economic security, state-of-the-art technology, interpersonal exchange, and regional and global cooperation. The photo essay looks back on the visit through photos.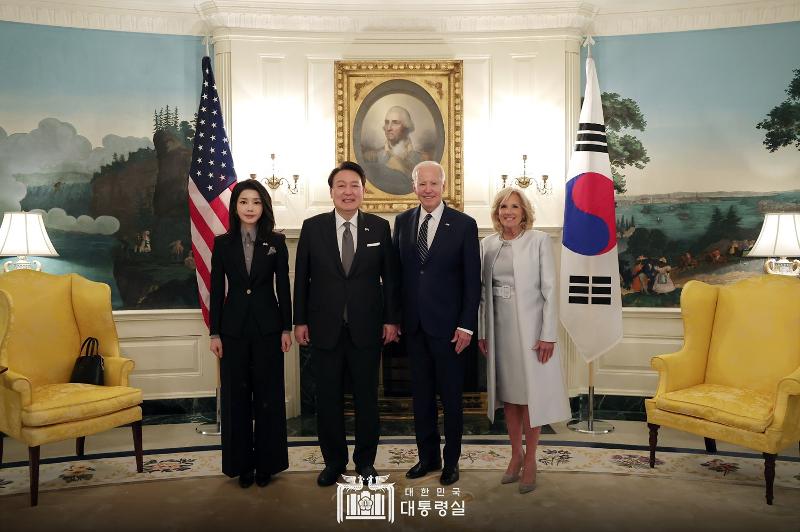 President Yoon Suk Yeol and first lady Kim Keon Hee on April 25 visit the White House and take a commemorative photo with U.S. President Joe Biden and first lady Jill Biden. To begin his official schedule in the U.S., President Yoon that day attended fellowship events with the American presidential couple at the White House and Korean War Veterans Memorial in Washington. The American presidential couple gave to their guests a small table, vase, necklace, a baseball bat used by a pro player, baseball glove and ball, while the latter reciprocated with a moon jar, silver kettle and jokduri (bridal headpiece).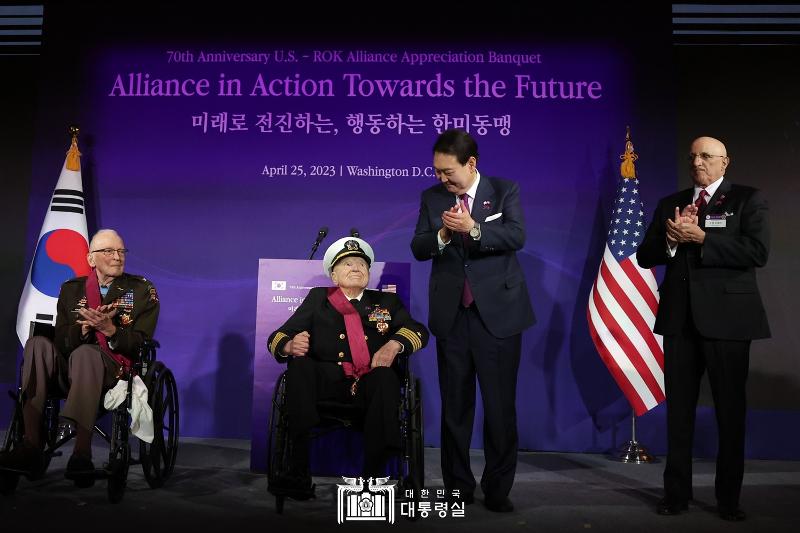 President Yoon Suk Yeol on April 25 at a Washington hotel gives the Taegeuk Order of Military Merit, the nation's highest military honor, medals and greetings to retired U.S. Army Col. Ralph Puckett (left), retired Navy Capt. Elmer Royce Williams (second from left) and the nephew of the late Baldomero Lopez (right), a first lieutenant who served in the Marines, at a luncheon for Korean War veterans. President Yoon thanked the veterans for making a noble sacrifice to protect freedom in and "defend a country they never knew and a people they never met."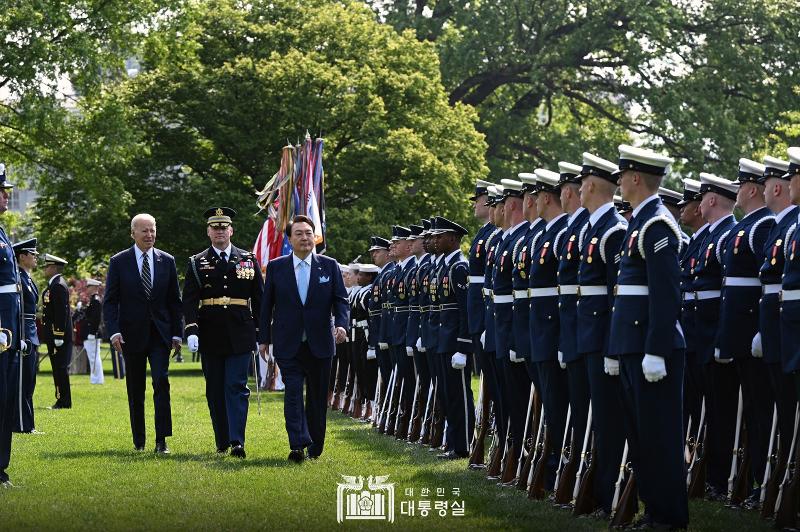 President Yoon Suk Yeol and U.S. President Joe Biden on April 26 inspect an honor guard at the South Lawn of the White House. At his welcoming ceremony, President Yoon said, "The Korea-U.S. alliance is not a transactional relationship of meeting and separating based on benefits, but an alliance of values and righteousness to protect the universal values of freedom."
"I came here to commemorate the proud 70th anniversary of an alliance with people from an allied country," he added, thanking President Biden, his wife and the American people.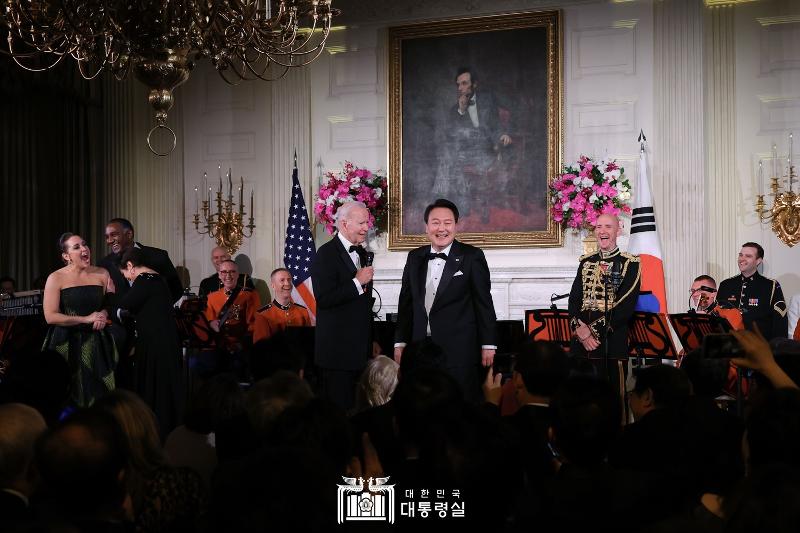 President Yoon Suk Yeol on April 26 shows a big smile flanked by U.S. President Joe Biden at a performance for a state dinner at the White House in Washington. The presidential couples of both countries attended the event along with figures from the U.S. government, Congress and business.
"This will be a historical day as the Korea-U.S. alliance goes beyond the glory of the past 70 years and extends new roots," President Yoon said. In an impromptu moment, he sang his favorite song "American Pie" by Don McLean and received from President Biden an acoustic guitar signed by McLean.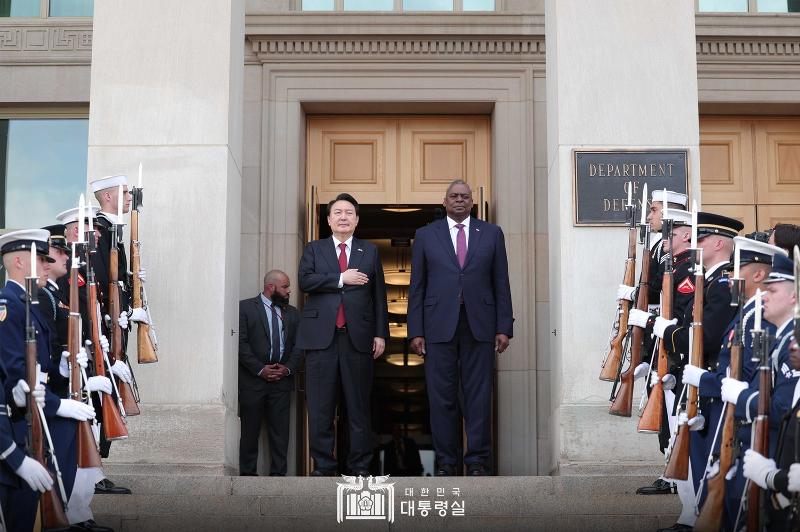 President Yoon Suk Yeol (left) and U.S. Secretary of Defense Lloyd Austin (right) on April 27 salute their nation's flags at the Pentagon in Arlington, Virginia, as honor guards perform the national anthems of both countries. President Yoon became the first Korean leader to visit the National Military Command Center, the U.S. Department of Defense's key command and control center.
"North Korea is advancing its nuclear and missile capabilities and using a variety of provocations to search for cracks in our bilateral alliance," President Yoon said. "Our government will sternly respond based on the Korea-U.S. alliance's steady combined defensive posture."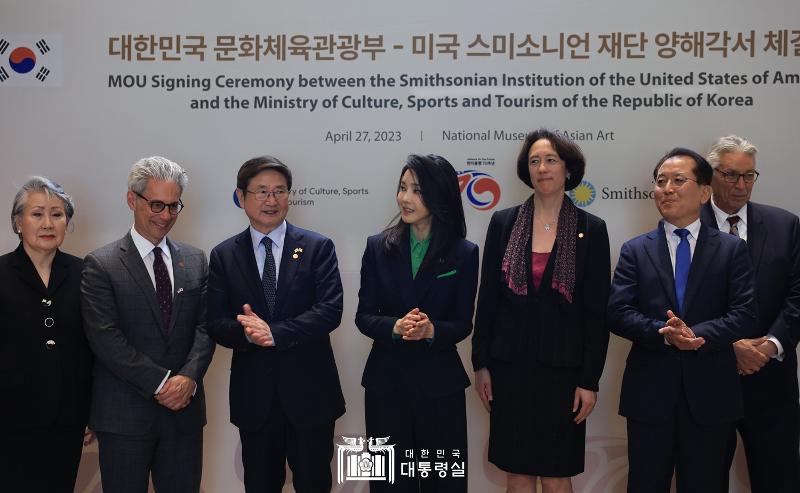 First lady Kim Keon Hee (middle) on April 27 claps at a signing ceremony for a memorandum of understanding (MOU) between Korea's Ministry of Culture, Sports and Tourism and the Smithsonian Institution of the U.S. at the National Museum of Asian Art in Washington. This is the first MOU between public agencies of both countries that supervise national cultural and arts institutions.

The signing laid the cornerstone for cultural cooperation between 23 Korean cultural and arts organizations affiliated with the ministry like national museums and art galleries and 21 such institutions in the U.S. under the Smithsonian Foundation, the world's largest museum, education and research complex.

From left are National Museum of Asian Art board member Chung Young Yang; Chase Robinson, a member of the National Museum of Asian Art's board of trustees; Minister of Culture, Sports and Tourism Park Bo Gyoon; first lady Kim; Deputy Secretary and Chief Operating Officer of the Smithsonian Institution Meroe Park; and National Museum of Korea Director Yoon Sung-yong.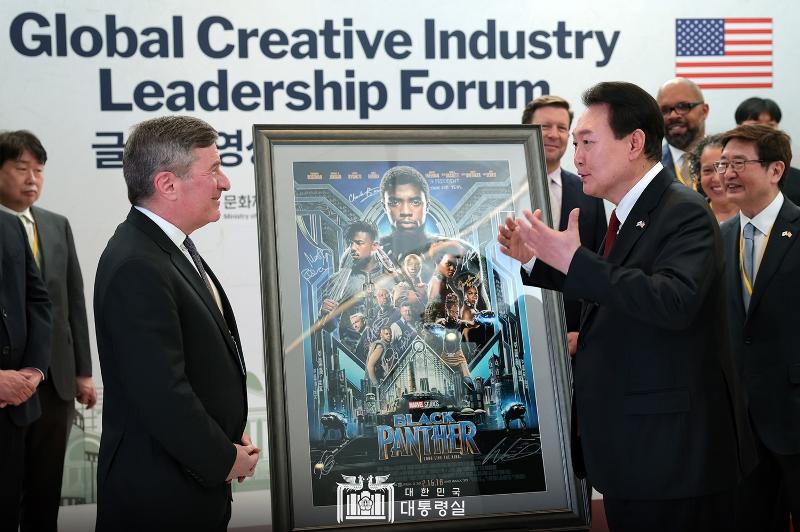 President Yoon Suk Yeol (right) on April 27 talks with Charles Rivkin, chairman and CEO of the Motion Picture Association (MPA), at the Global Creative Industry Leadership Forum held at MPA headquarters in Washington. "There are no national borders between countries in the culture industry," the president said. "We will get rid of anything that does not meet global standards."

President Yoon received from Rivkin a poster of the movie "Black Panther" signed by the latter's director Ryan Coogler, and said, "Because key scenes in 'Black Panther' were filmed in Busan, I will actively provide support for joint production of content by both countries."


President Yoon Suk Yeol on April 28 speaks to digital biology experts and graduate students at a dialogue held at Massachusetts Institute of Technology, aka MIT, in Cambridge, Massachusetts, near Boston. As the first Korean president to visit the school, he said cooperation in creative and innovative science technology is a new future area for the bilateral alliance rather than just defense and national security.
President Yoon Suk Yeol on April 28 at a hotel in Boston discusses plans for innovation of cutting-edge clusters by both countries at a Korea-U.S. cluster roundtable. "We can expect big synergy in the economies of both countries if the high-tech industrial clusters of Korea and Boston combine their science and technology capacities based on close cooperation," he said.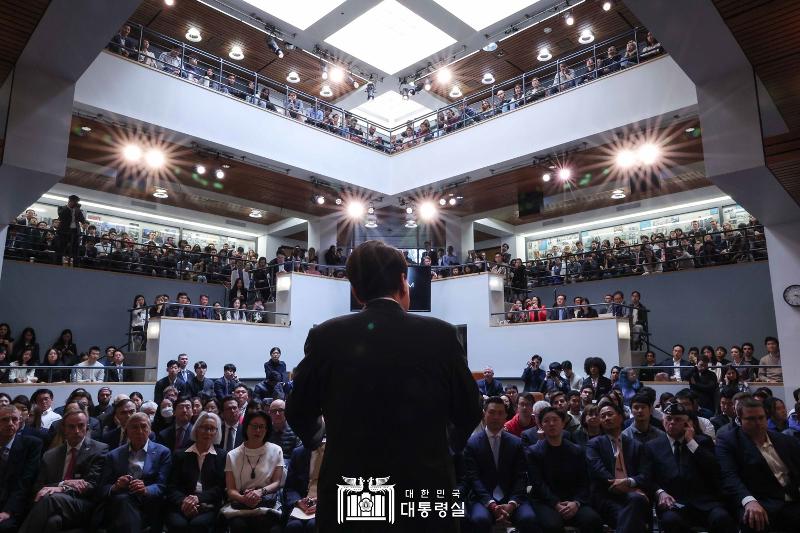 President Yoon Suk Yeol on April 28 gives a speech at Harvard Kennedy School in Cambridge, Massachussetts, to conclude the itinerary of his state visit to the U.S. as the first Korean leader to speak at the institution. Under the theme "Pioneering a New Freedom Trail," he emphasized the necessity to respond to dictatorships and totalitarianism that threaten freedom through strong solidarity and set new standards and order amid intensifying digitalization.
Photos = Office of the President
By Jung Joo-ri
etoilejr@korea.kr