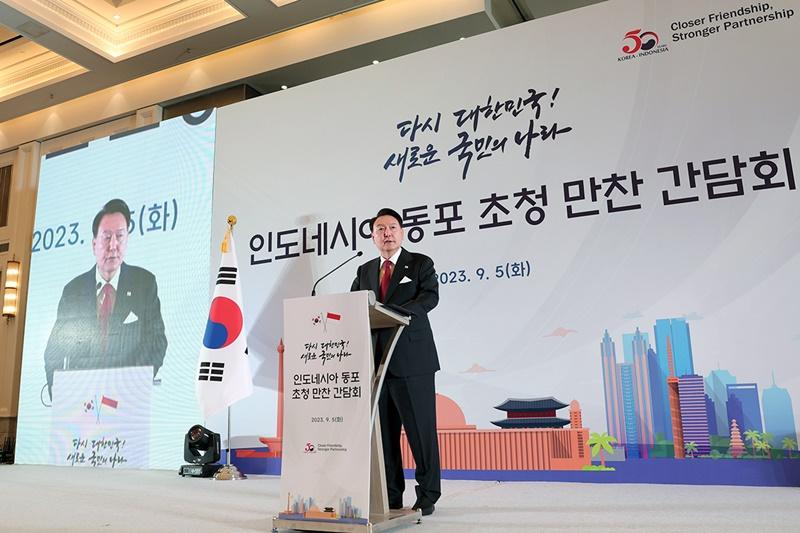 President Yoon Suk Yeol, who is visiting Indonesia to attend summits of the Association of Southeast Asian Nations, on Sept. 5 speaks at an event for Korean expats there at a hotel in Jakarta. (Kim Yong Wii from Office of the President)
President Yoon Suk Yeol and first lady Kim Keon Hee, both of whom are visiting Indonesia to attend summits of the Association of Southeast Asian Nations (ASEAN), on Sept. 5 hosted a dinner for Korean expats in the archipelago in Jakarta.

Presidential spokesperson Lee Do Woon in a news release said President Yoon that evening hosted a dinner at a hotel in Jakarta with about 180 expats from across Indonesia.

In a speech, President Yoon said, "Indonesia is the world's fourth most populous country, leading economic power in ASEAN and core partner of the Korea-ASEAN Solidarity Initiative."

He hailed the rapid development of bilateral relations in a range of sectors over the past 50 years, with bilateral trade reaching USD 26 billion last year from under USD 200 million in 1973, when the two countries formed diplomatic ties.

"Along with the development of Korea-Indonesia ties, our compatriots in Indonesia set up an exemplary community by showing the spirit of both Korea's mutual aid and Indonesia's 'gotong-royong' (shared responsibility) in the process of overcoming the coronavirus pandemic," he added.

"The Overseas Koreans Agency (in Incheon), which was launched in June, will become a strong fence that closely connects the motherland with the compatriot community," President Yoon said. "In particular, we will keep supporting multicultural and next-generation brethren in Indonesia so that they can maintain their Korean identity and further grow in the country."

In addition, Rainbow Choir, whose members comprise the children of Korean and Indonesian families, performed Korean children's songs such as "Thinking of My Elder Brother" and "Beautiful World."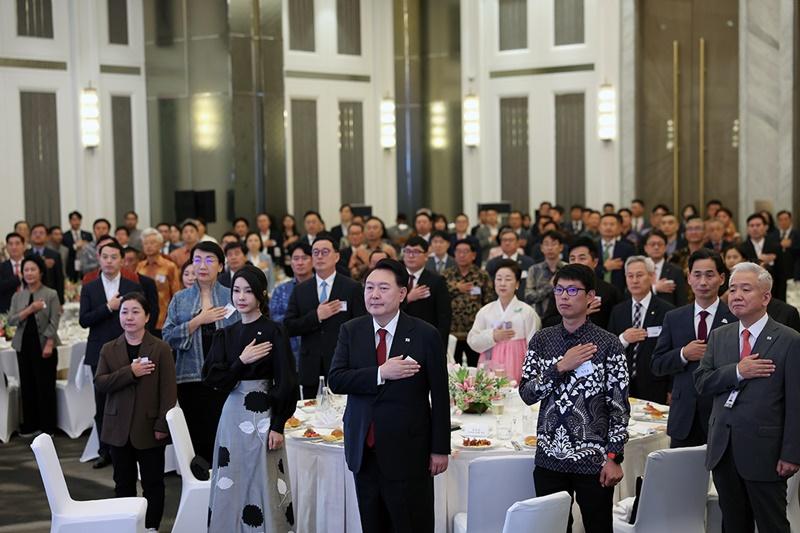 President Yoon Suk Yeol (third from left in front row) and first lady Kim Keon Hee (second from left in front row) on Sept. 5 stand in salute while listening to the Korean national anthem at a dinner for Korean expats in Indonesia at a hotel in Jakarta. (Jeon Han)
By Israa Mohamed
ess8@korea.kr