With COVID-19 restrictions being lifted and air traffic between Korea and China are resuming, a lot of school fairs are being held in China for Chinese school and Korean universities.

Qingdao Daewon International school held their school fair on April 18 at the event hall in Beijing Korean Community Center in Wangjing subdistrict in Beijing.
QIngdao Daewon International school is managed by Daewon which established Daewon Foreign Language High School and Daewon International Middle School. Qingdao Daewon International school is an international boarding school in Qingdao that covers K-1 through 12. The school is approved by the U.S. College Board for SAT test center and AP test center.

School faculty at the fair highlighted that the school has sent their students to prestigious universities all around the world including the University of Hong Kong (HKU), Hong Kong University of Science and Technology (HKUST), National University of Singapore (NUS), Tsinghua University, Seoul National University (SNU), Korea Advanced Institute of Science and Technology (KAIST), Yonsei University, Korea University, and others, and it is growing to be one of the most prestigious international school.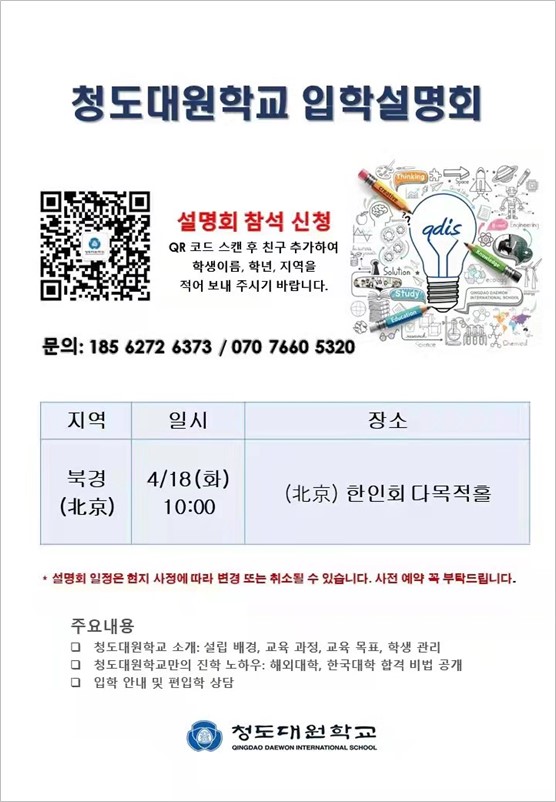 Qingdao Daewon International School in China is holding a school fair from April to May to attract students.
Qingdao Daewon International school is hosting its school fair in an area with heavy Korean populations from April 11. Yancheng (April 11), Suzhou (April 12), Nanjing (April 13), Hefei (April 14), Tianjin (April 19), and Qingdao (April 21) had their school fair already, and it will continue on to Beijing, Shenyang (April 25), Weihai (April 27), Xian (May 9), Chengdu (May 10) and finally at Korea's Daewon Foreign Language High school (May 13).

In the school fair in Beijing, the school explained the history of the school, curriculum, objective, and how they manage their students while boasting the school's knowhow on how they send their graduates to prestigious universities in Korea and overseas.

Also the British School of Beijing (BSB) also held their school fair in 8KM COFFEE in Wangjing subdistrict, Beijing on April 24th for Korean parents and students who are interested in admission to International school in China.

BSB is preferred international school for diplomats and foreigners in Beijing as it is located 30 minute drive away from Wangjing subdistrict in Beijing where a lot of Koreans reside.

Unlike Korean international schools, these foreign international schools in Beijing starts their school year in September thus many foreigners who came to China early in the year prefer to send their children there.
College fair was also held on March 23 for multicultural families who have their children attending Korean International School in Beijing.

Gacheon University, Hankuk University of Foreign Studies (HUFS), Inha University and other Korean universities also held their college fairs for Korean international schools in China.

According to the statistics published by the Ministry of Education, China had the second most Korean students studying abroad after the United States. With reasonable cost, close proximity, and the fact that the student can learn Chinese and English together, China is attracting many students to study abroad there.