On April 19, the Korean community in Russia became more noisy after ROK President Yoon Suk-yeol's interview with Reuters became public. Already facing economic constraints as a result of being designated an unfriendly country, Korean community in Russia is even more afraid of facing more serious threats to their survival. It's gotten to the point where Koreans are worried about being attacked on the street. Amidst this atmosphere, overseas Korean associations in Russia and the CIS announced statements opposing the provision of arms to Ukraine on April 24. It's a desperate plea to the Korean government from overseas Korean communities that have been watching the Russia-Ukraine crisis catching their breath. Even though it is not publicized, but Koreans in Russia are already suffering economic and social damage. I would like to share some of the difficulties that Koreans face in living and doing business.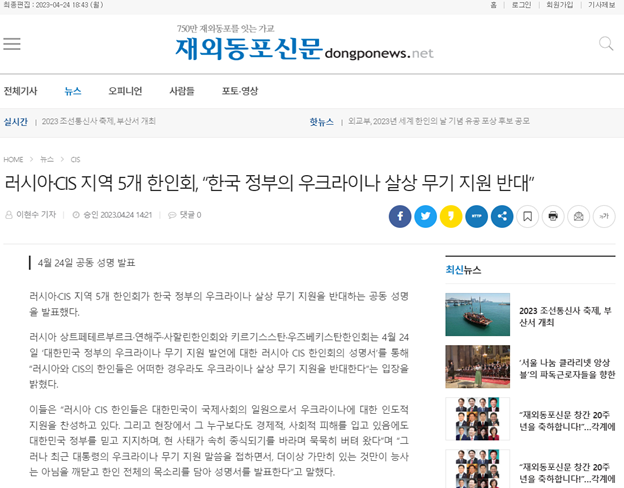 News article of the statement from five Korean associations in Russia and the CIS (Source: Dongpo News)
Case 1. The case of Mr. K, a local hire for a large company in Russia

Mr. K, a longtime local hire with a large Korean company in Russia, recently had a big problem.
Locally recruited employees are usually expatriates who have lived in Russia for a long time and often work on a contract basis. With the recent Russia-Ukraine crisis, large companies have been pulling out one by one. Therefore, those employees had to leave their companies, creating a problem with staying in the country. This is because while expatriates can return to South Korea to be reassigned under the evacuation order, but locally recruited employees don't have their basis in South Korea, so they can't easily withdraw their companies. Locally recruited employees and their families, who have been living on work visas through their companies, will immediately face problems with their stay. The problem doesn't end there. If you have a property in Russia, things get a little more complicated. This is because currently in Russia, foreigners from unfriendly countries are not allowed to buy or sell real estate. This means that assets are frozen. Although you need to leave Russia right away, you can't sell your property, so you are likely to suffer financial losses. If you have children go to school in Russia, the hassle increases, as you'll need to get new school visas. In the meantime, the locally recruited employees have been guaranteed a relatively stable stay compared to other Koreans, but they are very worried about their future with their families in the face of this unexpected situation. Currently, most of the locally recruited employees in large Korean companies in Russia are facing similar problems to Mr. K's.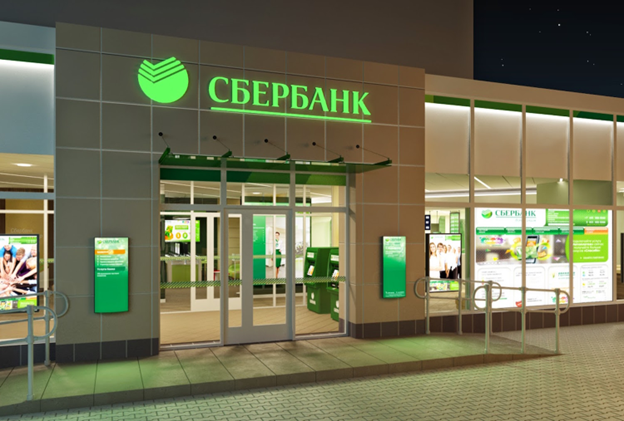 Sberbank, a Russian majority state-owned banking and financial services company
Case 2. Mr. P, who is self-employed in Russia

Mr. P, who is self-employed in Russia, is also experiencing business difficulties. Mr. P had established a 50:50 joint stock company with a Russian a few years ago. Due to recent financial difficulties, he has made several attempts to get a loan from a bank, but has received rejection notices every time. When Mr.P inquired with the bank, he was told that the bank would not even consider the loan because the shareholding of unfriendly nationals was over 50%. So he was working with a lawyer to reduce his stake to 50% or less, and then he heard something else that surprises him. For foreigners from unfriendly countries, it was impossible to trade their equities. In other words, a company with a CEO from an unfriendly foreigner can only maintain the status quo, but cannot lend, buy, sell, or give their properties. They should be relieved to know that they're still in business. After four years of declining sales due to the pandemic and the Russia-Ukraine crisis, Mr.P is having a hard time keeping his company afloat, and he sees no way out. Unable to receive remittances due to SWIFT code sanctions, and with bank loans blocked, Mr. P is facing a serious threat to his company's survival.
Case 3. Case of Mr. L, who was trying to get a mortgage loan

Mr. L, who has a temporary residence permit in Russia and is employed by a Russian company, recently got married. Mr. L looked for a mortgage loan from a bank to buy a home. He has been told by his lawyer that even if he is a foreigner, he can get a mortgage if he has a good record of paying taxes. However, he received a mortgage loan denial notice from a bank. At first he thought it was not possible because he was a foreigner after all, but he was disappointed when his lawyer told him the exact reason. He was told that he couldn't get a mortgage because he was a foreigner from an unfriendly country. Even before Mr. L barely had time to enjoy the happiness of marriage, he faced with real-world challenges. Until the unfriendly designation is lifted, he has to live with the burden of monthly rent.
These are some of the real-life challenges faced by Korean in Russia even though these are not recognized in the Korean media. Under these circumstances, ROK President Yoon's comments about potential arms support for Ukraine was like a bolt from the blue. While the government is still saying in principle that only humanitarian aid will be allowed, Koreans in Russian are waiting to see how the situation plays out. Koreans in Russia, who have been holding their breath in support of their homeland, have deep concerns. Knowing that this situation won't calm down easily, we can only hope for a peaceful resolution.