As the Korean populations in New York and New Jersey are large enough to carry out their own economic activities, there are many specialized Korean organizations spread throughout the region. In northern New Jersey, famous for its concentrated Korean population, there are organizations that specifically serve the elderly among first generation immigrants. One of these organizations is the Korean American Senior Citizens Association of NJ, which was established in 1990 and it has grown as a society for senior citizens with the election of the 15th chairman, Cha Young-Ja. At the moment, there are about 3,000 registered members, making it the largest organization for senior citizens in New Jersey.
From the support from various religious groups, service groups, social and economic organizations, individuals, and the county government, the organization carries out social welfare activities for senior citizens including an emergency food support center, social welfare counseling center, Sangrok school (ESL, computer, health and liberal arts, calligraphy, art, dancing, and other extracurricular activities), a vocational education training center, family event department, lunch program, and free hair styling, etc. In addition, there are club programs for golf, go, guitar, hiking, and saxophone that promote leisure and sporting activities.
The Korean American Senior Citizens Association of NJ performs two large events each year, the Filial Piety Awards and Cultural Festival in May, to coincide with Parents' Day, and Sponsor Night at the end of year to prepare funds and make a report of the year's events.

This year, the Filial Piety Awards and Cultural Festival took place on May 6 in New Jersey, and like other years, many different awards were given, including the Filial Piety Award for respecting one's parents and parents-in-law, loving one's children, and serving neighboring elders as one's own parents, the Proud Mother and Father Award for those who successfully raise their children to enter society and set an example for everyone else, the Longevity Award for those who have lived a peaceful and healthy life for over 100 years, and the Social Service Award for individuals or groups who have been taking care of the local community or neighbors experiencing difficulties for over 5 years. One of the sponsors of this event is the Overseas Koreans Foundation, located in Korea.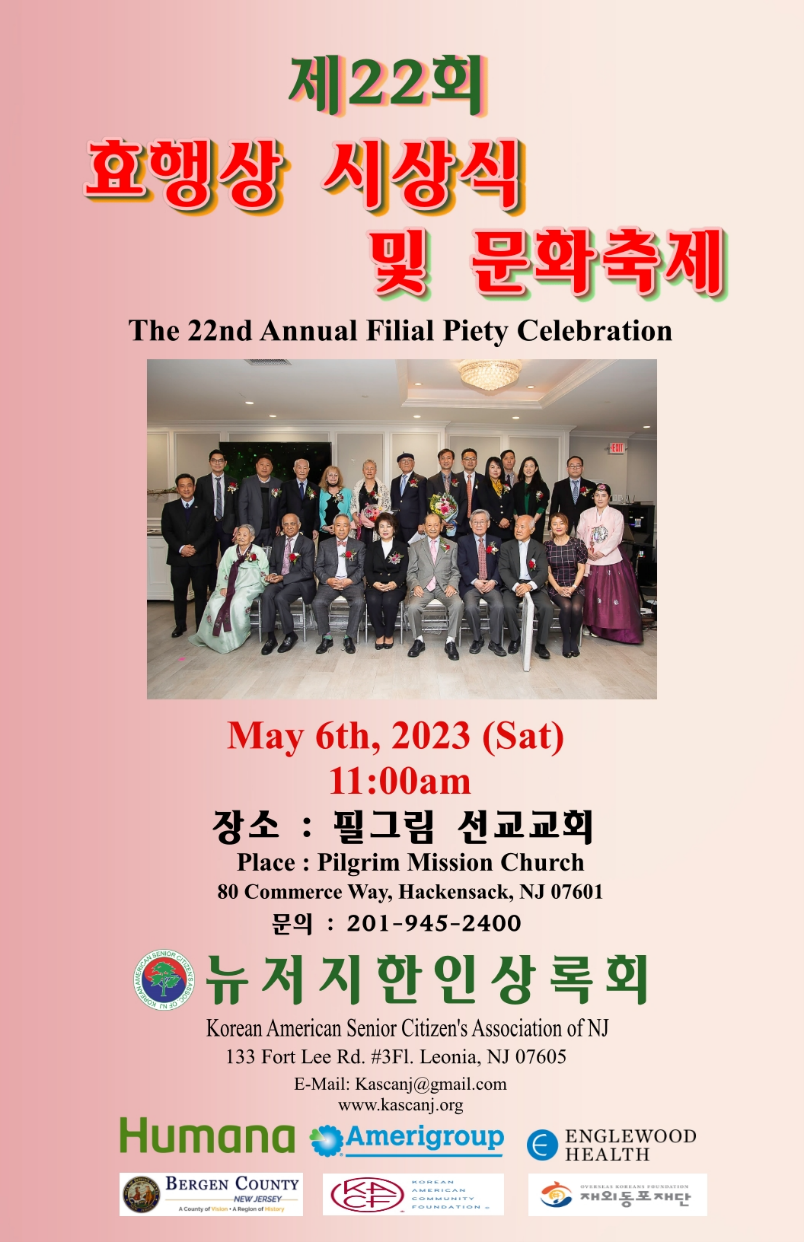 Filial Piety Awards and Cultural Festival Poster for May 06, 2023 (Source: Official website)
Chairman Cha Young-Ja, who was elected in 2020 and is serving her second term, held an event last year that promoted the establishment of an official Kimchi Day in New Jersey in support of the passage of a related bill this year. Additionally, she participates as a representative of the Association in various events for senior citizens in New Jersey to speak on behalf of Korean senior citizens.

The Korean American Senior Citizens Association of NJ issues monthly newsletter to promote its array of events and share information. Since it also helps with documentation and document revision regarding document translation, authentication, applying for United States citizenship, and renewal of permanent residence status for Koreans who are not fluent in English, its services are very popular.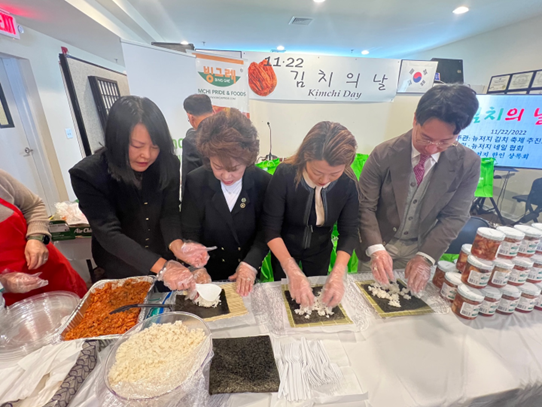 Kimchi Day on November 22, 2022 (Source: Official website)
Recently, a new program has been implemented in cooperation with the New Jersey Asian Healthcare Resource Center for comparing and recommending the services of different health care institutions to allow Korean citizens to receive a variety of medical services and benefits. Along with recommending hospitals and doctors, it provides hospitable consultation sessions regarding medical bills, problem-solving, and other complicated details of the United States healthcare system.

Some of the small-scale events that have been highlighted include monthly birthday parties for senior citizens through insurance sponsorship. These events are for the elderly living alone whose children live in other areas. Even though their families are not there, the organization celebrates the birthdays of these senior citizens with the unique friendly culture of Korea.

According to Henry Kim, the secretary general of the Korean American Senior Citizens Association of NJ, the organization's mission is to maintain the healthy lifestyle of Korean senior citizens living in New Jersey, allowing them to carry out regular economic activities, while at the same time providing assistance so that they can achieve an independent life as productive residents in their community. He further said that provision of various kinds of programs that focus on health, finance, and happiness is a way to fulfill their mission, and such programs allow Korean senior citizens in the United States to maintain a quality of life that is healthy, independent, and dignified. Last but not least, he highlighted that the ultimate mission of the organization is to ensure that Korean senior citizens in the United States are not reliant on government subsidies, but have a successful and independent life.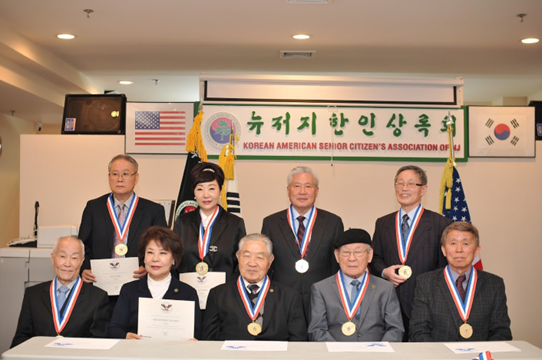 Recipients of the President's Volunteer Service Award (Source: Official website)
Chairman Cha Young-Ja has said she wants members to participate in exchange with the Korea Senior Citizen's Association in South Korea if the opportunity presents itself so that they won't forget their Korean identity. She continued that she is thankful that the Korean culture of respect for elders continues in the United States.

Since the organization is seeking a new space for expansion, they appreciate the support from the state government and the Korean community.

Address: 133 Fort Lee Rd. 3Fl. Leonia, NJ 07605
Website: www.kascanj.org