24TH OVERSEAS KOREANS Literary Awards
The「24th Overseas Koreans Literary Awards」shall be held for overseas Koreans who are residing in 180 countries. The literature award is the creative event of Korean literature, which has been held every year since 1999 to maintain the fellowship of Korean people for overseas Koreans and to prepare an opportunity for domestic citizens to understand overseas Koreans. We are looking forward to your great concern and participation.
Hosted & Supervised by Overseas Koreans Foundation
Supported by The Ministry of Foreign Affairs
1.Qualification
◦Adults: Overseas Koreans who have acquired a citizenship or a green card in the residing country or who have stayed overseas more than 7 years (19 years old & above)
◦Youths: Overseas youths who have acquired a citizenship or a green card in the residing
country or who have stayed overseas more than 5 years
- Elementary (From 7 years old to under 13 years old), Middle & high schools (From 13 years old to under 19 years old)
◦Adopted Koreans: Adopted overseas Koreans & children who have acquired the citizenship in the residing country
※ Grand prize and best prize winners of past overseas Korean literature awards cannot apply for the competition of the same category.
2.Guide for Competition Category (Theme) & Manuscript Volume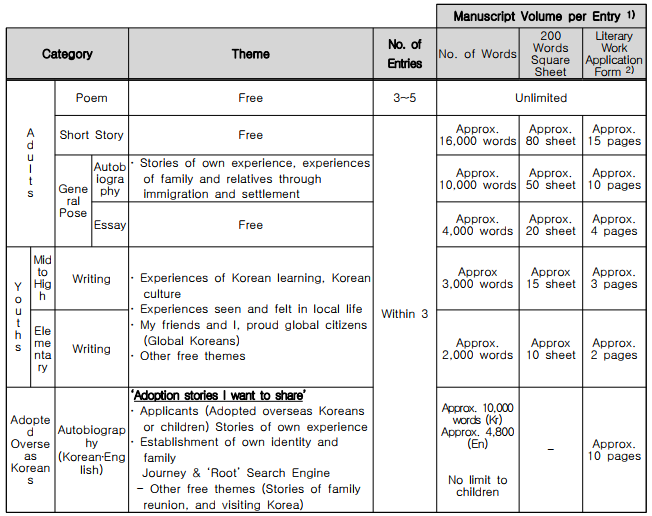 ◦Entry must be unreleased creative Korean literary work.(Adoptionautobiography, unreleased Korean or English literary work)
3. Evaluation and Award Details
◦ Evaluation process: (1st) Document evaluation → (2nd) Preliminary Evaluation → (3rd) Main Evaluation
- Evaluation committee is composed of experts in relevant areas
◦ Award details: Select total 37 people and 2 Korean language schools, Total 61.3 million won
1) The number of words for the manuscript per one entry includes word spacing. The volume of manuscript must meet ① number of words ② squared manuscript paper ③ one of standard forms for literary work application. Manuscript volume is less than 80%. If it exceeds 150%, impossible to advance to the preliminary evaluation
2) Available to download the literary work application form from Korean.net homepage(www.korean.net)
3) Special award shall be given to Korean language school to which a student applicant for youth category belongs, targeting non regular (weekend) Korean language school that is registered in the overseas diplomatic office. The number of literary works that have advanced to the main evaluation for each school and the number of award works shall be scored for selection.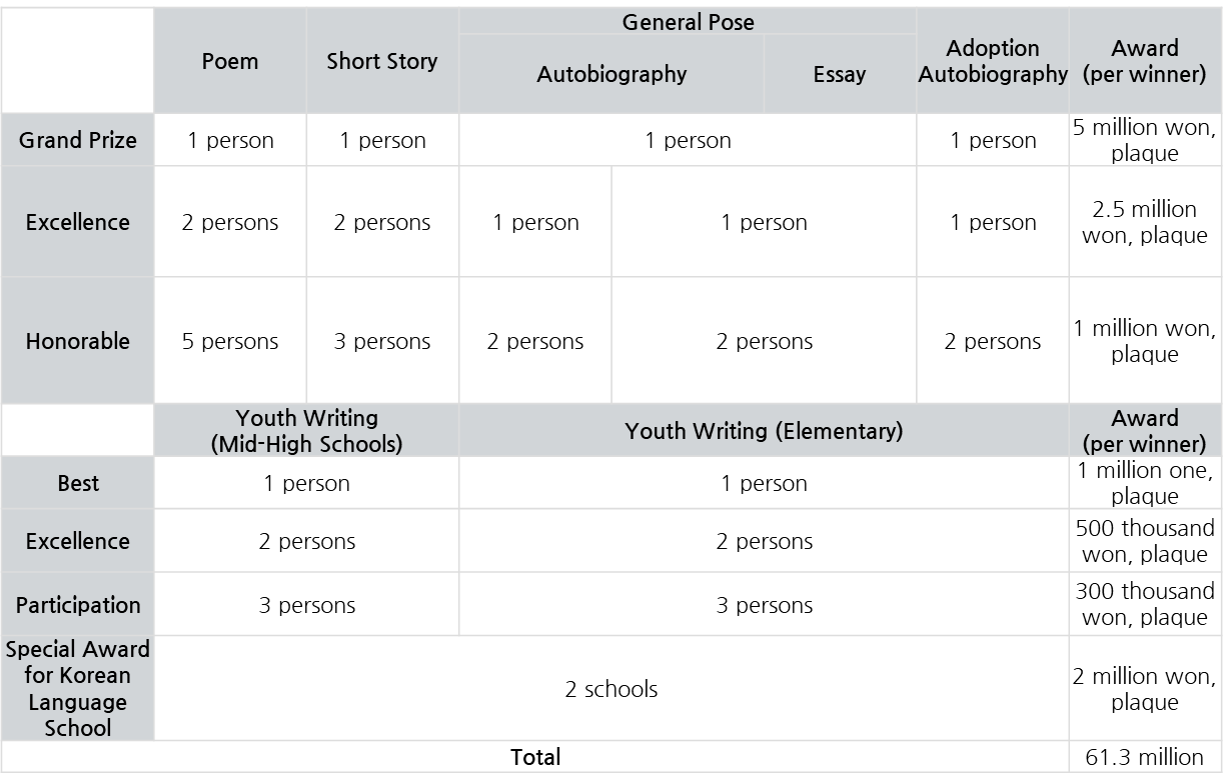 4.How to Apply
◦Period: 2022. 4. 22.(Fri.) ~ 6. 20.(Mon.) 23:59, Korean standard time (Must observe the deadline)
◦How to apply: Online application through Korean.net homepage (www.korean.net) Apply through the notice in Korean.net or the pop-up zone "24th Overseas Koreans Literature Awards" Literary Work Competition
→ Click Shortcut button for online application at the bottom
→ Download 'Literary Work Application Form' to save the literary work in attached file
※ Write attached file name in the order of Name of Applicant_Category of Application_Name of Literary Work
→ Prepare an application, attach the file of Literary Work Application Form to submit
◦Document to submit: Submit separate documentary evidences additionally only by winners to confirm the period of staying in overseas countries
(Required to delete the unique identification number at submission for the protection of personal information)
5.Announcement of Winners and Award Ceremony
◦Announcement: Notify winners individually during September, post them on Korean.net homepage
◦Award ceremony: Scheduled to hold the presentation ceremony for winners at the competent diplomatic offices in the residing countries

6.Precautions
A.<1. Qualification> Relevant person may apply regardless of new writer or well-known writer, multiple application available in more than one category
◦Grand prize winners and best winners in past overseas Koreans literature awards cannot apply for the same category.
◦Winners must submit the documentary evidences of visa status that corresponds to
<1. Qualification> within 2 weeks to the Foundation after the announcement of winners (individual notice). The Foundation may cancel the awards if winners do not correspond to the qualification or they do not submit the documentary evidences within the deadline.
B.Available to apply unreleased creative Korean literary works (Unreleased literary works in Korean or English for adoption autobiography).
◦Impossible to submit the literary works announced and selected by other domestic and overseas institutes and media (newspapers, internet media, etc)
◦If a literary work enters in other literature awards simultaneously being selected by several places in 2022, it is necessary to select between the literary award of our Foundation and the other literary awards. (Multiple awards are not possible in the same year.)
C.The award may be cancelled when the false contents written in the application are found.
D.The Foundation will dispose unselected entries and applications at once within 3 months from the announcement date of winning works in the competition. Unselected applicants may apply for the return of entry transcripts and applications or for their disposal.
E.Corresponding literary works below shall be excluded from the evaluation. Even after the award ceremony, its award may be cancelled. The prize must be returned to the Foundation. Applicant shall take all relevant legal responsibilities.
◦Literary works announced and selected by other domestic and overseas institutes and media (newspapers, internet media, etc)
◦Literary works of plagiarism or recognized mostly as plagiarism (Including self plagiarism, specify the source if necessary)
◦Other literary works judged and deliberated to be unqualified by the evaluation committee
F.Copyright and Consent to Permission of Use
◦Applicants (creators) shall have the copyrights for all entries (Author's moral right and author's property right). It is principle for the copyrights of winning works to be vested in winners.
◦Except, the Foundation may use winning works as below for the purpose of non-profit public benefit. Applicants are considered to consent to the use of winning works as below at both the application and the award. The fee to use author's property right of winning literary work shall be substituted with the award prize.
-Type of use: None exclusive use
-How to use: Publish and distribute books (not for sale) and electronic books for winning literary works
※ Place of using electronic books (PDF): Materials room in Overseas Koreans Foundation (http://research.korean.net)
◦The Foundation shall make a separate agreement with winners if anyone uses winning
works beyond the scope notified above and receive the consent to the permission of use.
Ex.) Preservation of records of overseas Koreans and service for public utilization, Posting in the periodicals of Overseas Koreans Foundation and Homepage, Other utilization that conforms to the hosting purpose of competition
Overseas Korean Foundation Promotional Culture Survey Seo Jun-Hyuk Assistant Manager
◦Email: culture@okf.or.kr