2023 Future Leaders' Conference, hosted by the Overseas Koreans Agency, invites talented overseas Koreans who will lead the future of overseas Korean communities worldwide.
Scheduled fromNovember 28 to December 2 in Korea, 2023 Future Leaders' Conference eagerly anticipates the arrival of exceptional and inspiring future Korean leaders.
I.Overview

A.Event name: 2023 Future Leaders' Conference
B.Objectives:
• Cultivating the Korean identity among the overseas Korean youth
• Discussing the ways to integrate into the mainstream of their residential societies
• Strengthening capabilities to enhance mutual development between overseas Korean communities and Republic of Korea
C.Dates: Nov 28 (Tue) - Dec 2 (Sat), 2023 < 4 nights, 5 days >
D.Location: Seoul and elsewhere (TBA)
E.Key highlights
• Keynote speech
- Updated policies for overseas Koreans(legislation of the Basic Act on Overseas Koreans, launch of Overseas Koreans Agency, etc.)
• Visiting Korean government institutions and meeting with relevant officials
• Discussion and Networking sessions
- Sharing experiences related to Korean identity and integration into mainstream of societies
- Discussion and presentation to build network by profession and region
• Visiting industrial sites and experiencing the culture of mother country
• Comprehensive discussion(issuing declaration, etc.)
II.Participation

A.Eligibility
Overseas Korean individuals aged between 25 and 45
• who have promoted exchanges among overseas Koreans and contributed to the development of the Korean communities,
• who work in politics, economics, law, major media, culture, art field, or international organizations, etc.,
• Leaders of exceptional emerging organizations, professional groups, etc.,
• Recommendees from Korean diplomatic office or head of overseas Koreans organization
B.Selection Criteria
Active involvement in the Korean communities and the country of residence
• Records of achievements, participation and activities for social contribution
Professional competence and potential for further growth in respective field
Other recommendations and relevant documents, etc.
C.Number of Participants
Approximately 100 participants from domestic and overseas locations
D.Application Submission
Application Period
• Application deadline: October 9 (Mon)
• Announcement of selection: Individual notification within October 27 (Fri)
Application Method
• <For International Participants>
Fill out the application → Submit the application to the South Korean embassy or consulate in your country of residence
• <For Domestic Participants>
Fill out the application → Submit the application directly to the Overseas Koreans Agency (via email)

E.Required Documents
Participation Application (with attached photo)
※ Self-introduction (free format), including records of activities in the Korean community
Consent Form for Personal Information Use
III. Program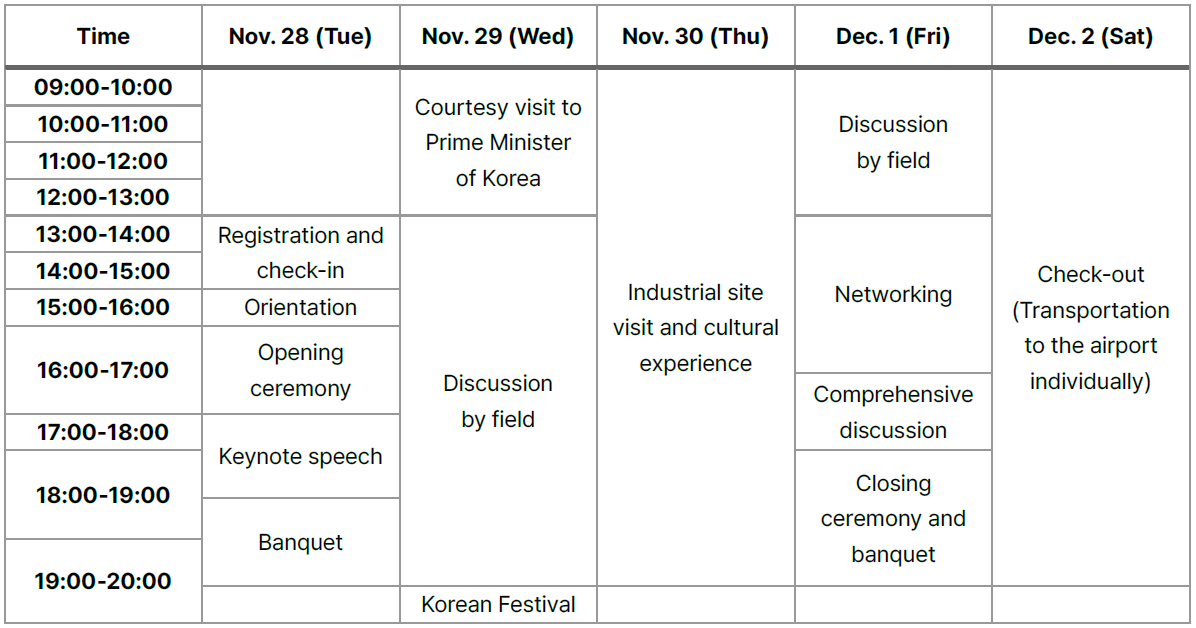 ※ The above program is subject to change.
IV. Support Details

A.Airfare: 50% of round-trip airfare (based on economy class, actual expenses)
※ Airfare Payment Principles
• Airfare will be covered up to a certain limit determined by the Overseas Koreans Agency and any excess amount is the participant's responsibility.
• For the flights with layover in other regions for personal purposes that are not related to conference, the cost of the flights will be borne by participant.
• The maximum amount of airfare coverage will be informed individually.
B.Accommodation
Accommodation: Double occupancy (For single occupancy, the price difference is at the participant's expense.)
Meals: 3 meals per day (Only for the conference period. Excluding personal expenses)
C.Travel insurance (Valid for the conference period)
V.Contact Information
A.Deputy Director Judong Kim from Future Generation Overseas Koreans and Human Rights Division (+82 32 585 3214, joo23@korea.kr)

VI. Important Notices
A.Failure to submit the required documents may lead to disqualification during the selection assessment.
B.False of information may result in the cancellation of selection.


Appendix. Participation Application Form.